Note that some workshops and tutorials have been cancelled due to too few participants. They are therefore removed from the registration page.
Our payment processor will by default provide a Norwegian user interface. See illustration below to learn of to toggle the language, and how to confirm your purchase if you do not have access to "BankID" (a service only available in Norway). Your registration will not be complete and your card will not be charged until you confirm your purchase.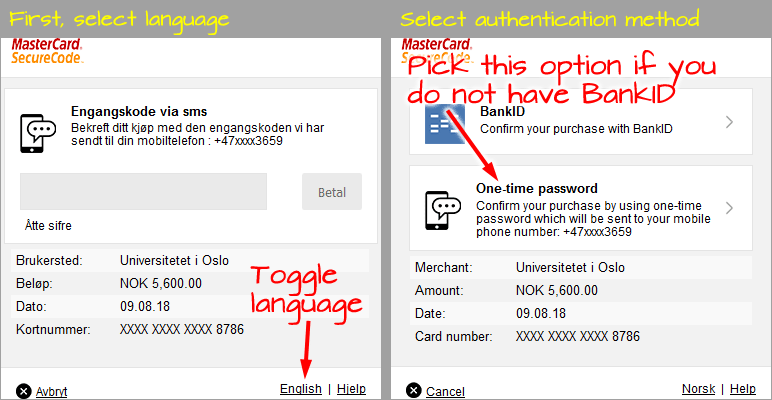 To register, you will need a recognised debet- or credit-card.
Please note that the conference fee covers the main conference. If you want to participate in the activities taking place on the pre-conference days, you will have to pay an extra fee for these. The fee covers a bag with conference material, all lunch and coffee/tea breaks as well as the informal det together on Sunday (not a full meal), the Town Hall reception on Monday (not a full meal), and the conference dinner on Tuesday.
Overview of registration fees (All fees are in Norwegian Kroner (NOK)).
Main conference fees:
6700 - regular, full conference
5000 - student, full conference
7500 - on-site registration
2500 - one day registration
1300 - extra conference dinner ticket
300 - extra reception ticket
Pre-conference days:
500 - workshop (full day)
1500 - tutorial (half day with lunch)
500 - doctoral consortium